"The Understanding" of Perseverance in the Apostles during
the Earthly Ministry of Jesus Christ
Why did the Exodus Generation backslide? In other words, why did they repeatedly provoke the LORD and fail to persevere in faith? Many would argue that they simply weren't converted; and, to illustrate this, they would quote a verse like Deuteronomy 29:4. 
"Yet the LORD hath not given you an heart to perceive, and eyes to see, and ears to hear, unto this day." - Deuteronomy 29:4
Overlooking the fact that this was spoken to the children of the Exodus Generation (a people renowned for their faithful perseverance in the conquest of the Promised Land), the principle of faith brought into view is very important as it pertains to the Doctrine of Perseverance. We, as Christians, must come to understand and analyze the vitality and longevity of our faith based upon our ability to hear, see, and perceive Biblical Truth. As truly converted people we must learn to persevere in faith – in hearing, we must continue to hear; or, in seeing, we must continue to see (Rev. 2:7, 11, 17, 29, 3:6, 13, 17, 22)! Therefore, in resounding harmony to the burden being conveyed in Deuteronomy 29:4, Jesus Christ said in John 16:12, 
"I have yet many things to say unto you, but ye cannot bear them now." - John 16:12
With respect to the question at hand (Why did the Exodus Generation backslide?), realistically, the same question should be asked about the Apostles of Jesus during the earthly ministry of the Messiah. In specific, why did the Apostles backslide and infamously deny the Lord of Glory at Gethsemane (Matt. 26:36-75, Lk. 22:45; Matt. 10:32-33)? Certainly, no one would argue that they weren't truly converted. Right? They were Apostles (Matt. 10:1-8)! So, what happened? Their lack of perseverance in faith is spoken about in the Gospels by Jesus using the same terminology and language originally employed in the Book of Deuteronomy when the perseverance of Israel was the primary objective of Moses' dying sermons. This was the foremost burden upon the Messiah's heart as well, especially concerning the Apostles, therefore He prayed, "…Holy Father, keep through thine own Name those whom Thou hast given Me" (Jn 17:11; Lk. 22:31-32).
The Apostles, as believing disciples who followed Jesus prior to the Cross, were converted and saved in the same way that all other truly saved believers of pastime Judaism were soundly converted (Lk. 1:6, Mk. 1:4; Heb. 11:1-40; for more information, see The Preincarnate Jesus Christ). That is to say that Jesus, the Son of God, declared the "Name" of Father to the remnant of the Church in the 1st Century as the sole purpose of His existence (Heb. 2:12); which means in part that Jesus savingly "manifested" the "Name" of Jehovah to the disciples (John 17:6, Heb. 2:12) prior to His crucifixion, death, burial, and resurrection – before salvation was hereby substantially provided (Rom. 3:25, Heb. 9:15, 10:4)! More than anything, this is a salvific communication of the Word of God ("I have given them Thy Word" – Jn. 17:14) that effectually works in those who believe through the Spirit (Jn. 3:3-11, 1 Thess. 2:13). Suffice it to say, the Apostles savingly "knew" the LORD (Jn. 17:2-3, 6; 1 Jn. 2:4-6) and "kept" the word of God even before the crucifixion of Christ (Jn. 17:6), which is only possible by regeneration; otherwise Jesus would not have spoken of them in prayer to the Father, saying, "…they are not of the world, even as I am not of the world" (Jn. 17:14).
Nevertheless, when their fidelity was tested at Gethsemane, they apostatized and treacherously denied the LORD! Why? Imagine the tone in which Jesus forewarned His closest disciples in an intimate setting, saying, "…All ye shall be offended because of Me this night…" (Matt. 26:31). Again, their apostasy certainly wasn't for a lack of true conversion. So, why didn't they persevere in faith? Only a detailed analysis of their 3-year journey leading up to Gethsemane will yield the answer to this important question.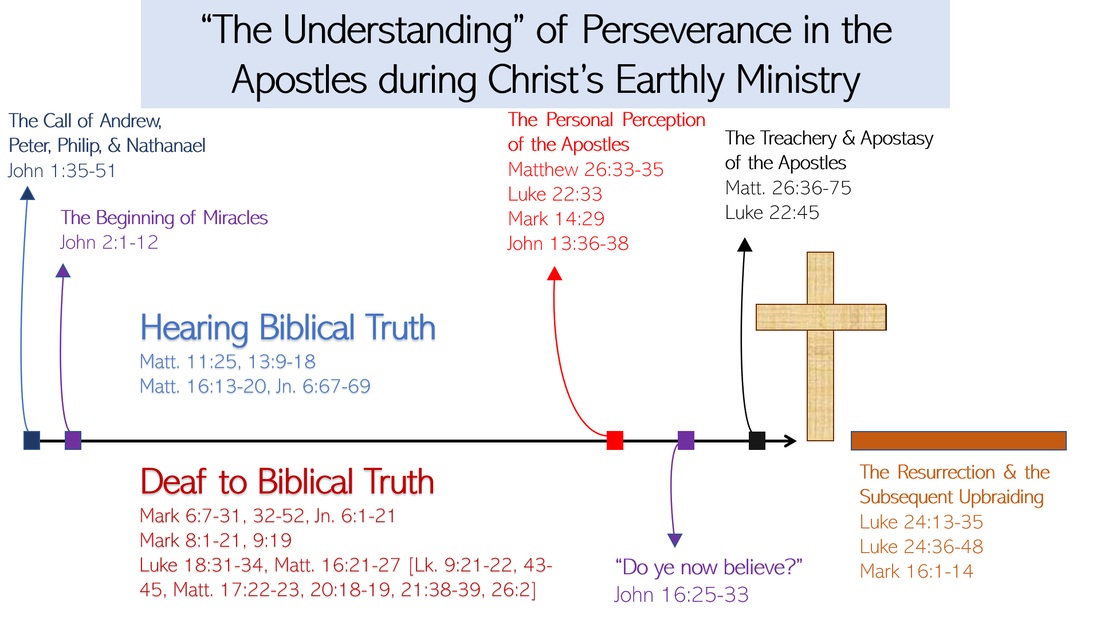 The 3-year journey was a tumultuous one. The Apostles were often confused, offended, and following on with trembling knees. They watched on in horror as Jesus' hometown attempted to murder Him (Mk. 6:1-6, Matt. 13:33-58, Lk. 4:14-30), and they were perplexed why Jesus' own family members thought He was crazy (Jn. 7:1-10, Matt. 12:46-50); but, worst of all, they were struggling with how much Jesus was offending the Pharisees (Matt. 15:12). Amidst it all they didn't know what else to do but to question the LORD and follow on in sheer self-denial. That's why the Apostles constantly resorted to asking Jesus questions all throughout His temptations (Lk. 22:28, Jn. 16:30).
At times the Apostles were more resilient, but their courage was tainted with pride; so, they argued with one another about who was the greatest (Lk. 9:46-48, 22:24-27, Mk. 9:33-37; Matt. 23:6-7). At other times they were more sorrowful in spirit and rash in speech; so, Thomas spoke up while reflecting upon Lazarus' death, saying, "Let us also go, that we may die with him." (Jn. 11:16). Certainly, they were too preoccupied with the pretentious Covenantal Idealism of their time (Matt. 24:1-2, Mk. 13:1-2) and too tolerant of the rampant hypocrisy practiced by the Pharisees (Matt. 23:16-22). An honest description of their fidelity was that they "scarcely" followed Jesus while beholding a tumult of offended defectors turn aside by the multitudes (1 Pet. 4:17-18, Jn. 6:60-66). The commotion about the countryside was such that even John the Baptist was made to doubt that Jesus was certainly the Messiah (Matt. 11:1-6; Commentary).
Nevertheless, the Apostles began well in the early days of Christ's earthly ministry (Gal. 5:7). At the original call of Christ and in the beginning of miracles (Jn. 1:35-51, 2:1-12), their faith in Jesus as the Son of God was evident: it was written, "His disciples believed on Him" (Jn. 2:11). Also, thereafter, in accordance with spiritual law (Jn. 9:31, 33, Lk. 6:39, 2 Cor. 4:13), these believers in Christ went about Israel turning whole cities upside down by preaching the Gospel with power - the LORD confirming the word with signs and wonders as they walked in faith through love (Matt. 10:7-8, Mk. 9:23, Jn. 11:40; Mk. 9:38-41; 1 Cor. 12:28-31; Rom. 15:15-19)! Likewise, at pronounced moments of trial throughout their spiritual pilgrimage, the Apostles stood out as shining examples of faith! Consider the time when Jesus questioned the disciples, saying, "But whom say ye that I am?", and Peter triumphantly confessed on behalf of them all: "Thou art the Christ, the Son of the Living God" (Matt. 16:16); or, consider when Jesus challenged them, saying, "Will ye also go away?", and Peter said, "Lord, to whom shall we go? Thou hast the words of eternal life. And we believe and are sure that Thou art that Christ, the Son of the Living God." (Jn. 6:67-69).
It is critical to understand that the Apostles were truly converted by virtue of faith in the Son of God; and, in believing (Heb. 11:1), they had unstopped ears to hear the truth or unblinded eyes to see the truth (Matt. 11:25); while others in unbelief (on the contrary), had stopped up ears that were deaf to the truth or closed up eyes that were blind to the truth (Matt. 13:9-18). This is a biblical way of describing the presence or absence of saving faith in Biblical Truth. The Apostles were expected to continue in saving faith through a growing reception of Biblical Truth – especially those things which pertain to the identity, person, and work of the Lord Jesus Christ.
In the aforementioned ways, with respect to the 3-year journey of the Apostles, it is clear that they had a good "understanding" that Jesus was the Son of God (Matt. 13: 13-15, 23); however, along the way they began to grow deaf to the Word of God spoken by Christ and the Ways of God exemplified by Christ. According to the Gospel of Mark, directly following the missionary campaign of the Apostles to the cities of Israel (Mark 6:7-13, 30-31), the crowds flocking to Jesus in the desert were so vast that Jesus compassionately taught and miraculously fed about 5,000 men (Mark 6:32-44). In the process, Jesus took the opportunity to "prove" the Apostles (Jn. 6:5-9). This event would have only increased the fervency of the Apostles in their conscious devotion to Christ, but their hearts were amiss. Therefore, after being constrained to depart by ship unto Bethsaida, and being caught in a storm on the way, the powerless disciples were in dire need of rescue (Mark 6:45-52). Jesus, being displeased with their faithless condition "would have passed them" (Mk. 6:48), leaving them there, had not the Apostles cried out to God in prayer. Explaining the situation, it was written, 
"For they considered not the miracle of the loaves: for their heart was hardened." – Mark 6:52
Later on, again, when the crowds amassed to around 4,000 people and Jesus was minded to feed them (Mark 8:1-21), the Apostles were blinded by unbelief. Their first thought was to analyze the situation carnally, asking the Lord, "From whence can a man satisfy these men with bread here in the Wilderness?" (Mark 8:4). Indeed, their faith should have grown to behave properly in this situation, having learned from the former occasion. Howbeit, similar to the last time, and as a repeated provocation, when the Apostles had ventured another journey by sea and arrived at Dalmanutha, and then at once returned to "the other side", it was written, "Now the disciples had forgotten to take bread, neither had they in the ship with them more than one loaf." (Mark. 8:14). Then, when Jesus charged them, saying, "Take heed, beware of the leaven of the Pharisees, and of the leaven of Herod." (Mar 8:15), it was written, 
"And they reasoned among themselves, saying, It is because we have no bread. And when Jesus knew it, he saith unto them, Why reason ye, because ye have no bread? perceive ye not yet, neither understand? have ye your heart yet hardened? Having eyes, see ye not? and having ears, hear ye not? and do ye not remember? When I brake the five loaves among five thousand, how many baskets full of fragments took ye up? They say unto him, Twelve. And when the seven among four thousand, how many baskets full of fragments took ye up? And they said, Seven. And he said unto them, How is it that ye do not understand?" - Mark 8:16-21 [Matt. 16:6-12] 
Discerning a growing sense of unbelief in the Apostles, Jesus spoke of their eyes being blinded and their ears being deafened – all of which amounts to a dangerous inability to "understand". This is the same terminology used by Christ when rebuking the Apostles because they were offended at how Jesus was offending the Pharisees (Matt. 15:1-20). When Peter asked for an interpretation of the parable, Jesus said, "Are ye also yet without understanding? Do not ye yet understand…?" (Matt. 15:15-17).
These occasions, and the like, are symptoms of a growing hardness through evil unbelief, as described in Hebrews 3:12-13. However, worst of all, the Apostles were impenitently deaf to the repeated statements of Christ when He privately foretold His own betrayal and death at the hands of sinners (Luke 18:31-34, Matt. 16:21-27 [Lk. 9:21-22, 43-45, Matt. 17:22-23, 20:18-19, 21:38-39, 26:2]). Why? Because they were personally offended at it. They simply couldn't believe it! They were expecting the Messiah to come and immediately restore the Kingdom to Israel (Acts 1:6). Therefore, far from embracing the Cross and glorying in it (Gal. 1:10, 5:11, 6:14), Peter boldly withstood Jesus under the bewitchment of Satan in Matthew 16:21-27.
"Then he took unto him the twelve, and said unto them, Behold, we go up to Jerusalem, and all things that are written by the prophets concerning the Son of man shall be accomplished. For he shall be delivered unto the Gentiles, and shall be mocked, and spitefully entreated, and spitted on: And they shall scourge him, and put him to death: and the third day he shall rise again. And they understood none of these things: and this saying was hid from them, neither knew they the things which were spoken." - Luke 18:31-34
"From that time forth began Jesus to shew unto his disciples, how that he must go unto Jerusalem, and suffer many things of the elders and chief priests and scribes, and be killed, and be raised again the third day. Then Peter took him, and began to rebuke him, saying, Be it far from thee, Lord: this shall not be unto thee. But he turned, and said unto Peter, Get thee behind me, Satan: thou art an offence unto me: for thou savourest not the things that be of God, but those that be of men." - Matthew 16:21-23
The cardinal ethic of persevering faith is the ability to continuously hear, see, and receive all that God is speaking in the ongoing revelation of Jesus Christ to the soul. That is certainly why Leonard Ravenhill said, "Preacher, with all thy getting, get unction." Or, rather, that's why Solomon said, "…with all thy getting get understanding" (Prov. 4:7)! In respect to the Apostles, the longer they walked with Christ in the 3 years of His earthly ministry, the more they were exposed to the salvific operation of the Gospel in all of its phases of glory; and the longer they persisted in hardness against any vital aspect of truth that pertained to Jesus Christ, the more hazardous it became to their souls (John 14:6, 17:17).
The Son of God knew about the dangerous hardness that the Apostles were stubbornly persisting in, despite their own inflated perception of personal integrity and faithfulness to Christ (Matt. 26:33-35, Lk. 22:33, Mk. 14:29, Jn. 13:36-38). Amazingly, the Apostles were oblivious to the danger of un-mortified evil residing within (Rom. 8:13). However, at once, when Jesus changed his tone and ministered more plainly to the disciples, the occasion presented itself for Christ to confront them about the treachery that lurked within. 
"These things have I spoken unto you in proverbs: but the time cometh, when I shall no more speak unto you in proverbs, but I shall shew you plainly of the Father. At that day ye shall ask in my name: and I say not unto you, that I will pray the Father for you: For the Father himself loveth you, because ye have loved me, and have believed that I came out from God. I came forth from the Father, and am come into the world: again, I leave the world, and go to the Father. His disciples said unto him, Lo, now speakest thou plainly, and speakest no proverb. Now are we sure that thou knowest all things, and needest not that any man should ask thee: by this we believe that thou camest forth from God. Jesus answered them, Do ye now believe? Behold, the hour cometh, yea, is now come, that ye shall be scattered, every man to his own, and shall leave me alone: and yet I am not alone, because the Father is with me. These things I have spoken unto you, that in me ye might have peace. In the world ye shall have tribulation: but be of good cheer; I have overcome the world." - John 16:25-33
This was a moment of honesty with the Messiah that the Apostles never expected, right when they believed themselves to have achieved the clarity of sincere faith they always hoped to enjoy! Marvelously, this illustrates just how much the Apostles were stumbling at the stumbling stone (PDF Notes). The eyes of the Son of God pierced into the heart, discerning their unbelief; thus, Jesus said, "Do ye now believe?" (Jn. 16:31). They would soon find out what Jesus was talking about. Yet, not without Jesus pleading with them in hopes that they would not enter into temptation and treacherously apostatize before the heathen (Matt. 26:36-75; Ezek. 18:23, 32). Nevertheless, by refusing to pay good heed to their Messiah's repeated appeals that they would watch and pray in vigilance, the sorrow of the world put them to sleep (Lk. 22:45, 2 Cor. 7:10). Fearfully, this serves as a lesson for us all. Namely, how the deafness of the Apostles at this critical juncture could have been prevented (Matt. 26:41), and should have been prevented, but because the Apostles weren't responsive to the Lord while in a saving relationship with Him, they suffered a precipitous fall into utter apostasy! 
The warning signs abundantly preceded the treachery of the Apostles so that they are without excuse. Each offence was met with reproof and instruction from our Lord… but to no avail. Therefore, upon the resurrection, the Son of God has choice words for those whom He loved (Jn. 13:1; Lk. 24:13-35, 36-48, Mk. 16:1-14). 
"Now when Jesus was risen early the first day of the week, he appeared first to Mary Magdalene, out of whom he had cast seven devils. And she went and told them that had been with him, as they mourned and wept. And they, when they had heard that he was alive, and had been seen of her, believed not. After that he appeared in another form unto two of them, as they walked, and went into the country. And they went and told it unto the residue: neither believed they them. Afterward he appeared unto the eleven as they sat at meat, and upbraided them with their unbelief and hardness of heart, because they believed not them which had seen him after he was risen." - Mark 16:9-14
"Then he said unto them, O fools, and slow of heart to believe all that the prophets have spoken: Ought not Christ to have suffered these things, and to enter into his glory? And beginning at Moses and all the prophets, he expounded unto them in all the scriptures the things concerning himself." - Luke 24:25-27
"And he said unto them, These are the words which I spake unto you, while I was yet with you, that all things must be fulfilled, which were written in the law of Moses, and in the prophets, and in the psalms, concerning me. Then opened he their understanding, that they might understand the scriptures, And said unto them, Thus it is written, and thus it behoved Christ to suffer, and to rise from the dead the third day: And that repentance and remission of sins should be preached in his name among all nations, beginning at Jerusalem. And ye are witnesses of these things." - Luke 24:44-48
Why did the Apostles backslide and fail to persevere in faith? Well, it was for the same reason that the Exodus Generation backslid. It didn't happen because the Apostles were unconverted and void of faith to begin with, as people assume was the case with the Exodus Generation reprobates (Heb. 4:1). Nor was it because the Apostles never had eyes to see or ears to hear. They backslid because they didn't continue in the faith that they had from the beginning (1 Tim. 4:16, Rev. 2:4-5) – so that, in seeing, they would continue to see; or, in hearing, they would continue to hear – especially when we as Christians begin to follow Jesus as genuine disciples at conversion, and we come to realize that the way of truth isn't what we originally expected it to be! For the Apostles in the 1st Century, this realization never fully dawned upon them because they stopped their ears to the message of the Cross. However, today, Christians are stopping their ears at the message of God in the Book of Revelation.
"And take heed to yourselves, lest at any time your hearts be overcharged with surfeiting, and drunkenness, and cares of this life, and so that Day come upon you unawares. For as a snare shall it come on all them that dwell on the face of the whole earth. Watch ye therefore, and pray always, that ye may be accounted worthy to escape all these things that shall come to pass, and to stand before the Son of man." - Luke 21:34-36
Jesus, foreseeing this, duly warns us to be watchful and prayerful concerning the Day of the LORD, just as He warned the Apostles concerning the Way of the Cross in the 1st Century. Howbeit, the Apostles weren't watchful concerning their own souls with respect to the vitality and longevity of their faith – forgetting that their faith lives by every word of God (Rom. 10:17) – therefore, through rejecting vital portions of the word of God, they were blinded and rendered unable to persevere. Even so it is today.