Seeing Wifehood at Sinai
Citizenship → Sonship → Wifehood
Accordingly, this knowledge is imparted to Israel in the revelation of the Kingdom of God at Sinai. By virtue of the fearful and terrible things revealed, Israel came to know the way of peace and confidence (Prov. 14:26). However, God was seeking something more than citizenship through sonship. With penetrating insight, the Prophets looked upon this sinaic scene of grandeur and saw wifehood!
"For thy Maker is thine Husband; the LORD of hosts is his name; and thy Redeemer the Holy One of Israel; The God of the whole earth shall he be called." - Isaiah 54:5 [Deut. 10:17, Isa. 9:6]
The LORD, who formed Israel in their redemption from Egypt, and assembled them at Sinai as Jehovah-Sabaoth, is also their Husband in the beauties of holy matrimony. All the prophets agree with the spiritual perception of Isaiah that was gloriously declared in Isaiah 54:5. According to Hosea, when divine "mercy" (Hos. 1:6) originally brought to birth the Kingdom of God (Hos. 1:4) in adopting Israel as the People of God (Hos. 1:9), this was one and the same thing as Israel becoming the Wife of Jehovah (Hos. 1:2, 2:2). Even though Hosea's burden of prophecy in his book pertains to Jehovah's Wife committing adultery, warranting the strong denunciations delivered to her in Hosea 2:1-13 (like in Isaiah 50:1-3 or Jeremiah 3:1-15), let the reader understand that Jehovah is condemning the wickedness of Israel's sin on the basis of the fact that He was her first "Husband" (Hos. 2:7). Nevertheless, despite the infidelity and treachery of Israel, a redemptive operation was underway insomuch that God would once again "allure her" with love into the Wilderness to make her "sing" there "as in the day when she came up out of the land of Egypt" (Hos. 2:14-15). Apparently, in Hosea's mind, the Exodus Generation was a reference point of paramount love and romance.
"Go and cry in the ears of Jerusalem, saying, Thus saith the LORD; I remember thee, the kindness of thy youth, the love of thine espousals, when thou wentest after me in the Wilderness, in a land that was not sown. Israel was holiness unto the LORD, and the firstfruits of his increase…" - Jeremiah 2:2-3
Harmoniously, Jeremiah discerned the same thing about Israel in the Exodus Generation. Jeremiah beheld Israel allured by love and drawn into the Wilderness as a newly espoused Bride seeking her Husband (Jer. 2:2-3, Hos. 2:14-15). This would indicate that Sinai was a celebration of a newly formed Marriage Covenant. Therefore, Hosea's prophecy about a revival of singing in Jehovah's Wife, as declared in Hosea 2:14-15, points to a revival of the first love of the Exodus Generation when Israel was a newly espoused Bride to the LORD (Rev. 2:4). This is a revival of a sweetheart love for God in the Bride that climaxed at Sinai, as is signified by the name Ishi instead of Baali (Hos. 2:14-20). These words are the same in that they both mean Husband, but they are emotionally distinct in their use, as Matthew Henry outlines: "they both signify My Husband, but Ishi is a compellation of love, and sweetness, and familiarity, Baali of reverence and subjection". In other words, Hosea was prophesying that God would be known by Israel as Jehovah-Ishi again, even as the LORD was experientially known in this manner by the Bride at Sinai. This is why Ezekiel called the formation of the Covenant at Sinai "the Time of Love" in Ezekiel 16.
"I have caused thee to multiply as the bud of the field, and thou hast increased and waxen great, and thou art come to excellent ornaments: thy breasts are fashioned, and thine hair is grown, whereas thou wast naked and bare. Now when I passed by thee, and looked upon thee, behold, thy time was the time of love; and I spread my skirt over thee, and covered thy nakedness: yea, I sware unto thee, and entered into a covenant with thee, saith the Lord GOD, and thou becamest mine. Then washed I thee with water; yea, I throughly washed away thy blood from thee, and I anointed thee with oil. I clothed thee also with broidered work, and shod thee with badgers' skin, and I girded thee about with fine linen, and I covered thee with silk. I decked thee also with ornaments, and I put bracelets upon thy hands, and a chain on thy neck. And I put a jewel on thy forehead, and earrings in thine ears, and a beautiful crown upon thine head. Thus wast thou decked with gold and silver; and thy raiment was of fine linen, and silk, and broidered work; thou didst eat fine flour, and honey, and oil: and thou wast exceeding beautiful, and thou didst prosper into a kingdom. And thy renown went forth among the heathen for thy beauty: for it was perfect through my comeliness, which I had put upon thee, saith the Lord GOD." - Ezekiel 16:7-14 [Ruth 3:9]
Much more than the making of a Kingdom for citizenship, the LORD adopted a Family of sons and daughters (Deut. 32:19) – and much more than citizenship through sonship, the LORD allured a Bride for a Wife. Ah! What a great mystery (Eph. 5:32)! My reader, if you are married, consider what enlargement of heart you personally experienced on your Wedding Day. In other words, remember "the love of thine espousals" (Jer. 2:2-3). It is an unforgettable feeling! Hopefully, through Christ, your love has only grown since then. Now, with all things considered, understand why the Prophets looked back and wondered with amazement at the heart of Jehovah for his Bride in the Exodus Generation! As a bereaved Husband in subsequent generations, the LORD made the Prophets remember how God once rejoiced over the Bride.
"Look down from heaven, and behold from the habitation of Thy holiness and of Thy glory: where is Thy zeal and Thy strength, the sounding of thy bowels and of Thy mercies toward me? are they restrained?" – Isa. 63:15
If only we could see what the Prophets saw, we would understand the sinaic situation. Through the Spirit of Prophecy, Asaph looked back and perceived favor, mercy, grace, and tender mercy in the heart of God for Israel in the Exodus Generation, while longing that this would be revived in his own backslidden generation (Ps. 77:7-9). Demonstrably, as described in Isaiah 63:15, the Prophets prayed for revival when they perceived that the heart of God was shut up or restrained, namely because it wasn't filled with zealous expressions of mercy like in the Exodus Generation. Habakkuk, too, in consideration of the same, cried out for the revival of divine mercy in his day (Hab. 3:2). Meanwhile, modern day "church members" look back on the Exodus Generation and scoff.
"…where is Thy zeal…the sounding of Thy bowels…? – Isa. 63:15
Take a closer look at Isaiah's prayer in Isaiah 63:15. He said, "…where is Thy zeal", which literally means in other words: "…where is Thy jealousy". Most occasions where the Hebrew word for "zeal" is translated into English, it is speaking of a zeal that comes from jealousy, rather than a zeal that is distinct from jealousy. Furthermore, this is the same word used by God at Sinai. Can you imagine why? Matrimonial love inspires jealousy. Like a mathematical equation, jealousy can only be as strong as love. While proclaiming the 10 Commandments from Sinai in "the Time of Love" (Ezek. 16:8), the LORD said: "for I the LORD thy God am a Jealous God" (Ex. 20:5).
Jehovah-Nakah → "I am Jehovah thy God, which have brought thee out of the land of Egypt, out of the house of bondage."  - Exodus 20:2
Jehovah-Ishi → "Thou shalt have no other gods before me. Thou shalt not make unto thee any graven image, or any likeness of any thing that is in heaven above, or that is in the earth beneath, or that is in the water under the earth: Thou shalt not bow down thyself to them, nor serve them: for I the LORD thy God am a Jealous God, visiting the iniquity of the fathers upon the children unto the third and fourth generation of them that hate me; And shewing mercy unto thousands of them that love me, and keep my commandments. Thou shalt not take the name of the LORD thy God in vain; for the LORD will not hold him guiltless that taketh his name in vain." – Exodus 20:3-7
In the first ever declaration, "I am Jehovah thy God, which have brought thee out of the land of Egypt" (Ex. 20:2), the LORD corporately invoked the name Jehovah-Nakah. This was a declaration of ownership. However, much more, it was an invocation that memorializes the divine smiting of Egypt; it was El-esh-oklah, "God the Consuming Fire", etching into the memory of Israel the love of Jehovah-Nakah. Remember, the love of Jehovah-Nakah is what originally won the hearts of unconverted Israel – empowering them to believe in the Gospel of Sacrifice at the Passover. Even so, the newly purchased Bride went out into the Wilderness seeking her Spouse (Jer. 2:2-3); and, upon arriving at Sinai, Jehovah-Nakah proclaimed His love over Israel. In proclaiming His jealousy in Exodus 20:3-7, Jehovah was proclaiming His love, because jealousy is only as strong as love. You see? Jehovah-Nakah wanted to be known by Israel as Jehovah-Ishi.
Marital commitment solemnizes love. When you belong to your spouse then jealousy is lawful. So speaks "the Law of Jealousies" in Numbers 5. In other words, commitment is to be expected. The laws of marriage do not threaten the relationship; they seal it. A formal covenant consecrates the holy matrimony. Therefore, true lovers would never flee from the Law at Sinai. They would welcome it! Could this be why David said, "O how love I thy law! it is my meditation all the day" (Psalms 119:97)! No wonder the Prophets discerned a holy matrimony at Sinai! Namely, because they understood that Jehovah-Ishi was moved with jealous love when He proclaimed the 10 Commandments at Sinai. the Law is not the death of love, inasmuch as a formal establishment of marriage by law is not the death of a romance.
Jehovah-Ishi → "And he said, Behold, I make a Covenant: before all thy people I will do marvels, such as have not been done in all the earth, nor in any nation: and all the people among which thou art shall see the work of the LORD: for it is a terrible thing that I will do with thee. Observe thou that which I command thee this day: behold, I drive out before thee the Amorite, and the Canaanite, and the Hittite, and the Perizzite, and the Hivite, and the Jebusite. Take heed to thyself, lest thou make a covenant with the inhabitants of the land whither thou goest, lest it be for a snare in the midst of thee: But ye shall destroy their altars, break their images, and cut down their groves: For thou shalt worship no other god: for the LORD, whose name is Jealous, is a Jealous God:" - Exodus 34:10-14
Jehovah-Ishi → "Take heed unto yourselves, lest ye forget the Covenant of the LORD your God, which he made with you, and make you a graven image, or the likeness of any thing, which the LORD thy God hath forbidden thee. For the LORD thy God is a Consuming fire, even a Jealous God." - Deuteronomy 4:23-24
Amidst the romance, following the undeniable proofs of God's love before the eyes of Israel, Jehovah-Ishi made sure the Bride understood the jealousy of divine love. Namely, in that Jehovah is El-Kanah – a Jealous God. Not just any kind of jealousy known to man. This is a character trait of infinite greatness, such that the world has never seen or known (Ps. 50:21-22, Isa. 6:3). Namely, in that El-Kanah is El-esh-oklah – God the Consuming Fire. Think about it. This is explicitly declared in Deuteronomy 4:34. Jealousy is declared to be the essence of the Consuming Fire. This adds one more equivalent to the equation of love. The consuming fire is only as strong as the jealousy, and jealousy is only as strong as love. The Prophets spoke freely in the terms of these characteristic equivalents. Therefore, when jealous love is provoked in God, the Prophets perceived and often spoke about the kindling of a fire. In reality, there's no better way to describe the passion and fervor of divine love than to use the language that conforms to the original unveiling of love at Sinai in what Ezekiel called the Time of Love (Ezek. 16:8).
Fires of Jealousy: Deut. 32:18-22 (judge), Ps. 79:5 (judge), Song 8:6 (restore), Ezek. 23:25 (judge), Ezek. 36:5 (restore), Ezek. 38:19 (restore), Zeph. 1:18, 3:8 (judge)
Jealous Wrath to Judge: Josh. 24:19, Ps. 78:58, 1 Kings 14:22,
Jealous Love to Restore: Joel 2:18, Zech. 1:14, 8:2, Nah. 1:2, Isa. 42:13, Isaiah 63:15; 1 Kings 19:10, 14 & 2 Cor. 11:2 (Prophets as Ambassadors); Ezek. 39:25 (Name),
Unquenchable Fire: Deut. 32:22, Ezek. 20:47-48, 21:5-7
The Quieting of Zeal / The Pacifying of Jealousy: Ezek. 5:13, 16:63, Zeph. 3:17, Zech. 1:15, 6:7
As each occasion required, Moses and the Prophets spoke of the fire of God's jealousy as a cause for both judgment and love promising both punishment and restoration. Depending on the circumstance, and how provocative and longstanding the acts of infidelity were, jealousy would act to recover the love and purity of the Bride (Deut. 5:9, 6:15). For, in a divinely organized marriage, Jehovah-Ishi is only jealous for that which he lovingly covets to possess in undefiled matrimony. Therefore, in the case of adultery, Jehovah-Ishi was righteously infuriated with jealousy! Proportionately, this stokes the jealous fires of El-esh-oklah! However, if things progress without remedy, the fires of divine jealousy will be inflamed to a near unquenchable degree where God is moved to act in extraordinary ways as a last resort to recover the purity of the Bride. Nevertheless, at the end of the Day in the closing chapters of time… love wins. The following prophetic description is a melodious picture of just how love wins – namely, in that "mercy rejoiceth against judgment" (James 2:13).
"Who is this that cometh up from the Wilderness, leaning upon her Beloved? I raised thee up under the apple tree: there thy mother brought thee forth: there she brought thee forth that bare thee. Set me as a seal upon thine heart, as a seal upon thine arm: for love is strong as death; jealousy is cruel as the grave: the coals thereof are coals of fire, which hath a most vehement flame. Many waters cannot quench love, neither can the floods drown it: if a man would give all the substance of his house for love, it would utterly be contemned." - Song of Solomon 8:5-7 [Isa. 24:14-16]
These are strong reasons to glorify the LORD in the fires of El-esh-oklah as commanded in Isaiah 24:14-16. For, this is the end of the Love Story. Love is strong. Proportionately, so is jealousy. Illustriously, they are like hot coals of fire! Not the kind that simmer with heat and cool over time. These coals are totally engulfed with flames and entirely on-fire! Nor is this just any kind of fire, these are like the vehement flames of El-esh-oklah at Sinai! This is literally what is being stated here in the Song of Songs. After all, only the love of El-esh-oklah could bring this Love Story to its conclusion with the Bride leaning on her Beloved. Indicating this, the Hebrew word for "a most vehement" is "Jah" or Jehovah. So, a more literal reading would be: "...the coals thereof are coals of fire, which hath a flame of JAH". This Hebraic phenomenon exists in only a few other places in Holy Scripture, where the name of God is employed as a superlative towards an object which He Himself is infusing with His own greatness (e.g. I Sam. 15:16; Psa. 36:6; 80:10, etc.). Therefore, "a most vehement flame" is another way of describing the burning vehemence of El-esh-oklah's love at Sinai, which we know to be the fire of Jehovah (Ex. 19:11)! For, where else did Jehovah illustriously burn with fiery vehemence more than at Sinai (Heb. 12:28-29)?
This Love Story would have had a happy ending very early on, if only Israel learned this posture of the Bride much sooner and with perseverance (Song 8:5). For, this love posture of bridal dependence upon her Bridegroom is only possible through seeing the vehement love of El-esh-oklah. If the Bride would have learned this from the beginning (what she is made to discover in the end!) things would have been radically different – if only Israel was made to Love and Sing and Wonder at how the love of Jehovah-Ishi radiated with heat in an awesome display of divine commitment and celebration at Sinai! Or, if only Israel knew the terribleness of divine romance from the beginning! Nevertheless, sooner or later this realization will come. Wifely submission will come at the end of all things (1 Pet. 4:7). Her destiny is inescapable (Rom. 11:26). In beholding the dreadful ferocity of divine fire, Israel will see a passionate display of how God is Love (Heb. 12:28-29, 1 Jn. 4:8, 16). The consummation is instrumental in the restoration.
The momentary upset of the Mosaic Covenant from Exodus 32:10 to Exodus 34:10 attests to this need in the Bride. There was too much blindness in the seers. With the fires of El-esh-oklah still in view, Israel should have disdained the vain hope of forging a calf and calling it Jehovah in a desperate attempt to find direction in the Wilderness (Ex. 32:1-6), even if they somehow lost hope that Moses would return from the Mount (Ex. 32:1). If only they steadfastly remembered how the brilliant fire was a spectacular display of divine love in real time! Yet, most people just think God was angry with Israel at Sinai. Period. Israel probably thought so too (Ex. 20:20), before the Lord hushed their ungodly fears through ministering to them at Horeb from Exodus 19 to Exodus 24. To be clear, Jehovah wasn't angry with Israel until after they fell into idolatry, which was very late in the making of the Mosaic Covenant. This contrast can be understood in two periods of 40 days.
During the first 40 days that Moses spent on Sinai (Exodus 24 to Exodus 31), God wasn't angry with Israel until the very end. In this case the heat of El-esh-oklah was nothing more than passionate and fiery divine love until the conception of idolatry. However, during the second 40 days that Moses spent on Sinai (Exodus 32 to Exodus 34), God was angry with Israel (Ex. 34:28) – in the same way Jehovah was angry when the first 40 day period of glory was suddenly terminated with a near annihilation of Israel at the outbreak of idolatry (Ex. 32:1-14). Moses, ascending Sinai a second time, fell down before the LORD in intercession with the same urgency exhibited in the sudden close of the first 40 days, only this time he abode there in intercession against the wrath of God for a total of 40 more days without intermission (Deut. 9:18-19, 25, 10:10, & Ps. 106:23).
"And I fell down before the LORD, as at the first, forty days and forty nights: I did neither eat bread, nor drink water, because of all your sins which ye sinned, in doing wickedly in the sight of the LORD, to provoke him to anger. For I was afraid of the anger and hot displeasure, wherewith the LORD was wroth against you to destroy you. But the LORD hearkened unto me at that time also…Thus I fell down before the LORD forty days and forty nights, as I fell down at the first; because the LORD had said he would destroy you." - Deuteronomy 9:18-19, 25
"And I stayed in the mount, according to the first time, forty days and forty nights; and the LORD hearkened unto me at that time also, and the LORD would not destroy thee." - Deuteronomy 10:10
"Therefore he said that he would destroy them, had not Moses his chosen stood before him in the breach, to turn away his wrath, lest he should destroy them." - Psalms 106:23
Of course, God was angry with Israel after they fell into idolatry – and all throughout the Great Pause that took place from Exodus 32:10 to Exodus 34:10 – which marks the reinstatement of the Mosaic Covenant after Moses spent a total of 80 days on Mount Sinai. Also, during this interim period Israel was dangerously close to being consumed by the fires of El-esh-oklah (Ex. 32:10, 12, 33:3, 5). Nevertheless, before and after this point, the LORD forgave Israel (Num. 14:19) – which also means that Jehovah was no longer angry with the Church. All hail the first ever demonstration of sovereign mercy (Ex. 33:19, Rom. 9:15)! In respect to divine emotion, true forgiveness legally releases the torrents of divine benevolence in love.
"And Moses and Aaron went into the tabernacle of the congregation, and came out, and blessed the people: and the Glory of the LORD appeared unto all the people. And there came a fire out from before the LORD, and consumed upon the altar the burnt offering and the fat: which when all the people saw, they shouted, and fell on their faces." - Leviticus 9:23-24
Indeed, how could the Consuming Fire be angry with the sin of Israel, when El-esh-oklah had just consumed the sins of the people in the fiery consumption of a sin-burdened sacrifice for an atonement (Ex. 40:34-38, Lev. 9:23-24)? With the reinstatement of the Mosaic Covenant, the LORD was minded towards Israel in the same manner of benevolence formerly described. Admittedly, this is only possible after the stroke of divine judgment did exact every cause of justice in the camp of Israel (Ex. 32:25-29, 32-35), but this protocol was already made clear in the opening statements of divine love from Mount Sinai in Exodus 20:5-6.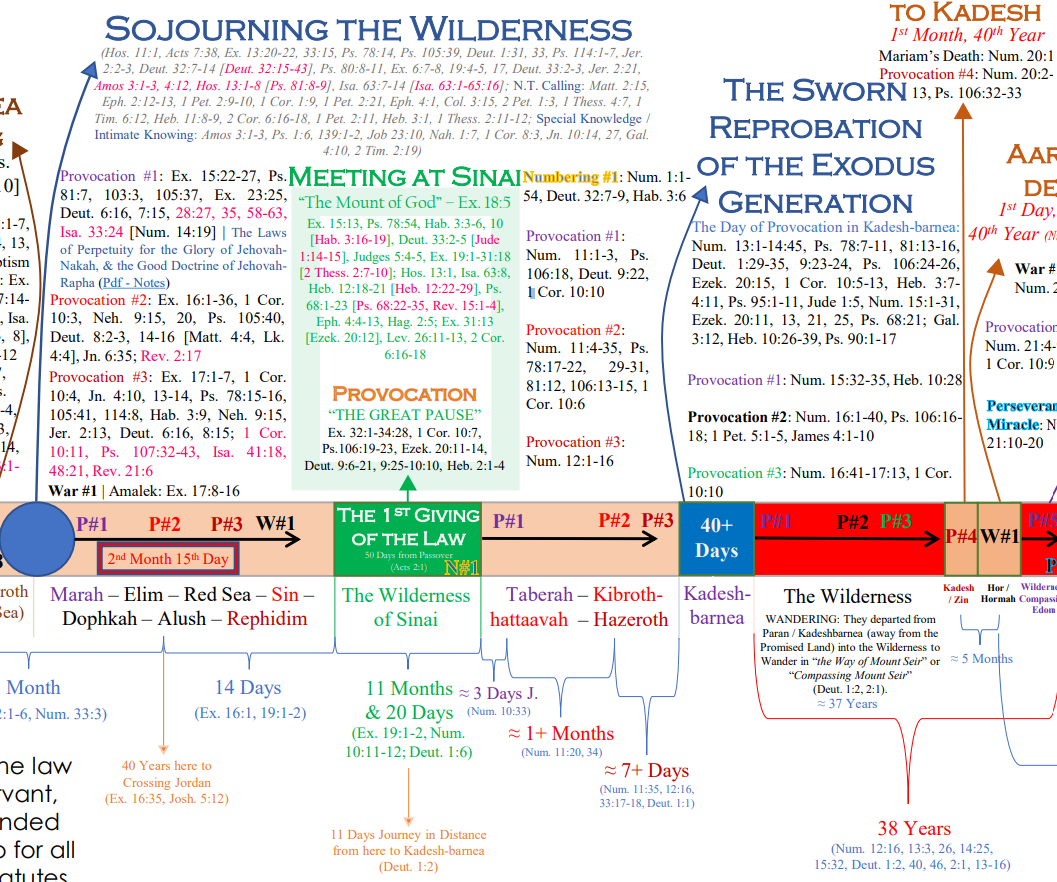 It was hoped that things would get better after Sinai (Isa. 63:7-8). That's why the LORD led the people immediately to Kadesh-barnea after spending around a year camped at Horeb. Despite three provocations committed by Israel on the way there (Num. 11-12), the Mosaic Covenant was firmly established and irrevocably sure. Jehovah-Ishi is faithful. Nothing like the Great Pause was going to happen again (Rom. 11:29). If there was anger in El-Kanah, let the Bride understand that it was inspired by the love of Jehovah-Ishi.
Sadly, things didn't go as Jehovah hoped (Isa. 63:8). By faith in the love of Jehovah Israel was expected to believe the Gospel of Inheritance preached to them at Kadesh-barnea (Heb. 3:7-4:11), but instead they believed an evil report that erroneously proclaimed the hatred of Jehovah (Num. 13:32, 14:37, Deut. 1:27). Seeing that these things were written for our example, "upon whom the ends of the world are come" (1 Cor. 10:11), let us learn the lessons that the Exodus Generation didn't lay to heart (Heb. 3:7-4:11). Let us look back with deuteronomic wisdom and behold what was amiss in them and amended in their Children. In so doing, let us personally discover the Bonafide Equivalents of the Gospel that would have inspired faith in the Gospel preached at Kadesh-barnea, had the Exodus Generation been properly considerate while in the Theater of Redemption. This brings us to the fatherly lovingkindness of El-esh-oklah.
"Then I said unto you, Dread not, neither be afraid of them. The LORD your God which goeth before you, he shall fight for you, according to all that he did for you in Egypt before your eyes; And in the wilderness, where thou hast seen how that the LORD thy God bare thee, as a man doth bear his son, in all the way that ye went, until ye came into this place. Yet in this thing ye did not believe the LORD your God, Who went in the way before you, to search you out a place to pitch your tents in, in fire by night, to shew you by what way ye should go, and in a cloud by day." - Deuteronomy 1:29-33
Backsliding through unbelief is a critical imperception of spiritual reality (Heb. 11:1, 27). Therefore, when Isaiah preached the Everlasting Gospel, he simply said: "Behold your God!" (Isa. 40:9). Disbelief makes men disregard something that is true, or someone, and in this case Israel denied the character of Jehovah who was mighty to save and standing among them. El-esh-oklah was there for Israel in a Father-to-Son relationship of sincere commitment from beginning to end. In the beginning, according to Exodus 15:7, El-esh-oklah was there for them at the Red Sea to consume the Egyptians. In the end, according to Deuteronomy 9:3, El-esh-oklah was there for them at Kadesh-barnea to consume the Canaanites. But Israel was tormented at the thought that the Consuming Fire was somehow against them! This outrageous misunderstanding was totally unacceptable. Moses, who preached the Gospel to the Exodus Generation at Kadesh-barnea (Heb. 3:17-4:2), later proclaimed the motivation of his preaching by declaring to their Children:
"Hear, O Israel: Thou art to pass over Jordan this day, to go in to possess nations greater and mightier than thyself, cities great and fenced up to heaven, A people great and tall, the children of the Anakims, whom thou knowest, and of whom thou hast heard say, Who can stand before the children of Anak! Understand therefore this Day, that the LORD thy God is he which goeth over before thee; as a Consuming Fire He shall destroy them, and he shall bring them down before thy face: so shalt thou drive them out, and destroy them quickly, as the LORD hath said unto thee." - Deuteronomy 9:1-3 [Deut. 4:24]
It turns out that the Consuming Fire at Sinai was for Israel, rather than against them, insomuch that El-esh-oklah was going before them to destroy their adversaries as they traveled to the Promised Land to dispossess many nations. This is the love of El-esh-oklah for Israel before, at, and beyond Sinai. This was made abundantly clear at Israel's departure from Sinai (Num. 1:1-3, 10:11-36). Literally, at their first journey yonder to battle, as "the Ark was set forward" before the Armies of Israel (Num. 10:35), Moses was compelled to loudly declare before the Pillar of Fire: "Rise up, LORD, and let Thine enemies be scattered; and let them that hate Thee flee before Thee" (Num. 10:35). Comprehending the enormity of this invocation, David echoed Moses and elaborated upon the significance of what should have been Israel's solemn expectation when coming to the battleline.
"Let God arise, let his enemies be scattered: let them also that hate him flee before him. As smoke is driven away, so drive them away: as wax melteth before the fire, so let the wicked perish at the presence of God." - Psalms 68:1-2 [Judges 5:4-5, 20; Ps. 18:7-15]
Apparently, David understood the doctrines of El-esh-oklah and El-Kanah that were forged at Sinai. Accordingly, David understood the significance of the construction of a Tabernacle / Temple for the enthroned presence of the Glory of God upon the Ark. In other words, David fully embraced the fact that the God of Sinai, dwelling at its peak, descended into the congregation of Israel to abide within (2 Cor. 6:16) and walk among them in these ways (Lev. 26:11-12). Therefore, when Zion essentially replaced Sinai at the ushering in of the Ark of God into Jerusalem, David acquiesced in the shocking implications of residing upon the holy Mountain with Jehovah (Ps. 15, 24, 68).
Moses and David were invoking the glory of none other than El-esh-oklah, before whose face the adversarial armies of Canaan would melt like wax before the fire as they perish at the presence of God! Then, at the sheathing of every sword in the aftermath of victory at war, without a tinge of unholy fear, Moses would affectionately beckon El-esh-oklah back into the camp of Israel, saying, "Return, O LORD, unto the many thousands of Israel." (Num. 10:36, Zech. 2:5). Apparently, they understood the love of El-esh-oklah! Yet, modern believers misjudge the terrible experience of fire before El-esh-oklah at Sinai (2 Cor. 5:11), so most people think that God was angry with Israel at Sinai and that's all there is to it.
These evil reports have gained notoriety in modern times like the evil report prevailed among the people at Kadesh-barnea. Somehow, or someway, adulterous generations always adulterate the Gospel by mischaracterizing God at critical junctures of redemption. Ah! This horrifying propensity to think of God as one like unto ourselves (Ps. 50:21-22)! This is dangerous. Depraved human intelligence will always question what should be unquestionable (1 Cor. 2:14). Even so, unjustifiable questions about the Exodus Generation persist even unto this day! Why? "Shall he that contendeth with the Almighty instruct Him?" (Job 40:2).
If only readers would pay more attention to divinely posed questions of the past and their answers, believers would not persist in asking so many unlawful questions. Readers of the Old Testament simply aren't getting the message. Even after the Prophets posed many questions about these awesome events in respect to divine anger with the intent to inspire thoughtful reflection in the readers, people still aren't getting the message. Specifically, the Prophets focused on the most widely misunderstood aspects of El-esh-oklah, which of course pertain to the scope and targets of divine wrath during Israel's journey in the Wilderness. Nevertheless, rampant misunderstandings about the Exodus Generation prevail today because readers overlook what was most "in question" about the Exodus as Israel journeyed from Egypt to Canaan.
At the beginning of their journey, when crossing the Red Sea, why were the waters afraid & troubled at the sight of God (Ps. 77:16)? Or, at the end of their journey, when crossing Jordan, why were the waters ailed at the sight of God (Ps. 114:5)? Apparently, it was for the same reason that God intensely rebuked the Red Sea at the triumphant crossing (Ps. 106:9). Why did God "rebuke" the Red Sea instead of simply commanding it, like the verbal utterances spoken in the creation of the world (Ps. 106:9, Ps. 33:9)? Clearly, Jehovah was angry. But why? Or, at whom? In the words of Habakkuk, all this begs the question:
"Was the LORD displeased against the rivers? Was Thine anger against the rivers? Was Thy wrath against the Sea…?" – Hab. 3:8
The LORD surely wasn't angry with the waters. H2O is incapable of immorality. Nevertheless, what ailed the waters did also bring the hills and mountains of the earth to tremble and skip (Ps. 114:6-7; Ps. 77:18). Speaking of the same phenomenon, Habakkuk said, "the mountains saw Thee, and they trembled" (Hab. 3:10). Is it possible for God to be angry with the soil of the earth? No.
These prophetic questions are intended to bring the attention of the reader to focus upon the divine purpose at hand in Israel's journey to Canaan – the very thing that David was beholding in Psalm 68:7-8, when he described Jehovah as one marching through the Wilderness before the people (Ps. 68:7-8). Apparently, Deborah was seeing the same thing in Judges 5:4-5. This manner of divine movement indicates a resolute divine purpose of war for which God was angry.
"But in the fourth generation they shall come hither again: for the iniquity of the Amorites is not yet full." - Genesis 15:16
Jehovah was full of moral outrage against the Canaanites for their wickedness (Gen. 15:16, Lev. 18:28, 20:23, Num. 33:56, Deut. 28:63, 29:28, Josh. 23:15-16)! So dreadful was the invisible sight, even the rivers and mountains were afraid! They saw that God was angry with the Canaanites as early as the Red Sea; and, at every encounter thereafter: what troubled the sea ailed the mountains, and what made all to tremble for fear did also afflict Cushan and Midian (Hab. 3:7), the people directly bordering the Promised Land. Demonstrably, in traveling to Canaan, the LORD wasn't merely walking or even sojourning – Jehovah-Sabaoth was marching to war! Then, upon arriving to the Promised Land, Habakkuk said, "Thou didst march through the land in indignation, thou didst thresh the heathen in anger." (Hab. 3:12).
Divine Wrath Directed toward the Canaanites for their Wickedness: Gen. 15:16, Lev. 18:28, 20:23, Num. 33:56, Deut. 28:63, 29:28, Josh. 23:15-16
Divine Wrath Directed toward the Canaanites Lawfully Demanding their Annihilation with the Cooperation of Israel as an Instrument of Divine Judgment: Ex. 23:20-23, 34:11-14, Lev. 18:24-30, 20:22-27; Num. 33:51-56, Deut. 7:1-6, 16-19, 23-26, 12:1-4, 29-32, 18:9-14, 20:16-18, 23:1-17, Josh. 23:2-16, Judges 2:2-3
By ignoring what was most "in question" among the Prophets, scorners question the unquestionable by debating the subject matter that God was most concerned to clarify.
Notably, if God was thus minded, the Israelites should have been marching too, but sadly they were hardly aware of this divine purpose especially early on in their voyage. The fiery indignation of Jehovah-Sabaoth was a necessary component to faith in the Gospel at Kadesh-barnea. Without this heart, how could Israel realistically expect to march with God in the throes of battle? Sadly, in lacking a sincere agreement with God, Israel proved delinquent at this critical moment of trial. "Can two walk together, except they be agreed?" (Amos 3:3). One can only wonder how things would have been different if Israel had more depth of spiritual awareness early on to see that they were marching behind Jehovah-Sabaoth as the Armies of El-esh-oklah (LORD of Hosts: Ex. 6:26, 7:4, 12:17, 51, Num. 1:3, 2:3, 9, 10, 16, 18, 24-25, 10:14, 18, 22, 28, 33:1). Lukewarm Christians today don't feel like the Church Militant of bygone ages either.
Israel's stop at Sinai was in stride with this angry divine purpose. Originally, at Israel's first arrival at Sinai, and upon the sealing of the Covenant with vows and blood (Ex. 19, 24), El-esh-oklah was not angry with the Church of the Wilderness (Acts 7:38). From Egypt to the Red Sea, from the Red Sea to Sinai, and from Sinai to Jordan, the people were meant to be fortified in and empowered by the anger of El-esh-oklah, rather than disempowered by it. While encamped at the Mount, the people were thoroughly instructed concerning the battle (Ex. 23:20-23, 34:11-14). The grotesque and toxic wickedness of the Canaanites was revealed by God to Israel in hopes to inspire a moral hatred among the soldiers of war (Lev. 18:24-30, 20:22-27). Only then would they be willing to totally annihilate those whom God had judged to die without pity (Deut. 7:1-6, 16-19, 23-26, 12:1-4, 29-32, 18:9-14, 20:16-18, 23:1-17, Josh. 23:2-16, Judges 2:2-3).
Seeing the morality of God makes men moral. Seeing the faithfulness of God makes men faithful. Seeing the love of God makes men love. Likewise, seeing the hatred of God makes men hate. Even in the New Testament! True spiritual intimacy with Jehovah (Ps. 139:1-18) would cultivate this kind of holy hatred in the Israelite people, the same that David passionately exemplified in Psalm 139:19-24.
"Surely thou wilt slay the wicked, O God: depart from me therefore, ye bloody men. For they speak against thee wickedly, and thine enemies take thy name in vain. Do not I hate them, O LORD, that hate thee? and am not I grieved with those that rise up against thee? I hate them with perfect hatred: I count them mine enemies. Search me, O God, and know my heart: try me, and know my thoughts: And see if there be any wicked way in me, and lead me in the way everlasting." - Psalms 139:19-24 [Ps. 15:4, 31:6]
In this sense, the anger of God would encourage faith in the love of God towards Israel; or, the hatred of God would encourage faith in the love of God towards Israel. Why? Because the wrath of El-esh-oklah encourages valiant obedience in the bloody acts of war against their adversaries, rather than discouraging faith in the love of God towards Israel. A just God must needs be angry with the outrageous crimes of condemned sinners, even if He loves to show mercy and pardon sinners wherever possible.